Root beer: Blue Sky
---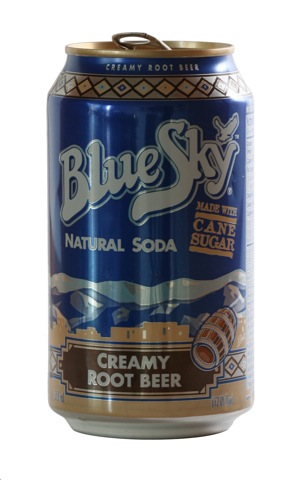 This one started off with the disadvantage of being from a can. That may have been why it had the best head of any of the ones I'd tried so far.
It is also made with cane sugar, which tends to give it a bit of a medicinal flavour. It has the same aftertaste as the Boylan, only stronger. Unfortunately the starting taste isn't quite as nice. Dark with a heavy carbonation, this isn't a weak brew. If you are on the fence about root beer, this one won't win you over, but if you are looking for something a tad different for a good price, then this can is the way to go.
Again this is something you can get at Choices Market in Vancouver, and at 69¢ is definitely the cheapest 355mL of root beer that they sell. As I mentioned and you can see, it is a can, which isn't the best medium for root beer–similar to real beer I'm told–and it is pretty strong, but if you are looking for some cheap root beer which is a bit different from what you might be used to then this is worth a try.