Day 3: New Dinner
---
I've never been a big recipe guy. But I have alway enjoyed cooking. I don't traditionally do much of it as a perennial bachelor, but it isn't something I'm afraid of by any means. Generally how I like to cook is to buy things that I like to eat and combine them in different ways, potentially odd ways as any of my university residence friends could attest.
What I made tonight was also a bit off book, but quite delicious, so I figure I would put it on the book by providing the recipe. My quantities are approximate, but that shouldn't matter, because everything is "to taste".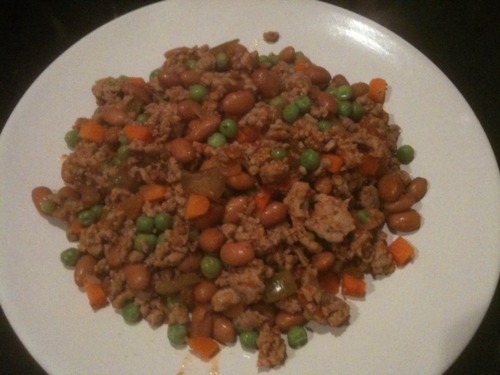 Ingredients
Package of ground turkey
One can of pinto beans
Half a bag of frozen peas and carrots
Hot sauce (Frank's or similar)
Salsa (hot, chunky)
Garlic powder
Cayenne powder
Fry up the turkey, drain off the fat. Add garlic powder, cayenne and hot sauce to the meat while it frying. At the same time start boiling the peas and carrots. While that is happening drain and thoroughly rinse the beans. When the meat is cooked through, add the beans to it and stir them in. Continue heating over medium-low heat. When the peas and carrots have boiled for a minute or so, drain them off and toss them into the meat-bean mix. Stir it all up. Then add a generous helping of hot, chunky salsa (you can use whatever type you like I suppose, I found some interesting new varieties in the organic food section of the grocery store).
That's it. Serve and enjoy. I'm sure you could add some other veggies to it or various other spices, but I am a fan of the spicy so this way worked for me.