Cheese Sticks
---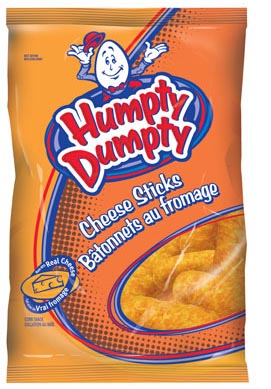 Moving from the east coast to the west coast of Canada wasn't as difficult as I thought it might be. Yes, I hate being away from my family, but the environment isn't too bad. The familiarity of being near an ocean, all of the national stores, restaurants and customs. However, there are some things which are different across this true north, strong and free. Groceries are one difference. This one is mostly related to Vancouver's huge international population. Fortunately the vast diversity in the types of restaurants and cuisine available here outweigh the odd fish-smelling supermarket. It isn't the content of the stores per se, but the feel of them. They feel tired.
The biggest blow for me came today however. I had a craving for cheesies for a few days and at one point over the weekend I was in a drug store and stopped in the snack section. It wasn't a huge selection and I was disappointed but not surprised they didn't have exactly what I was looking for: Humpty Dumpty Cheese Sticks. So I left thinking I would have to go to a proper grocery store and pick a bag up at some point. So today I went down into the mall to the "Great Canadian Superstore" in order to pick up a bag. They had a huge aisle dedicated to potato chips and related snacks, but I couldn't find what I was looking for. Nothing Humpty Dumpty at all in fact–no Party Mix or Ringalos. A dark fear started tugging at my mind, very subtly. I went back up to the office and told my friend Ken that I couldn't find any Humpty Dumpty products.
"What's Humpty Dumpty?" He replied.
So that answered my question. Humpty Dumpty is available in Ontario and points east, but not west. It turns out Old Dutch, which is quite popular out here, bought out Humpty Dumpty last year. Some of their products have been re-branded and released out here, but mostly just the potato chips. I have seen Party Mix out here somewhere, IGA I think. The buzz online is that Cheese Sticks are hard to come by and most people have friends and family bring them out from the east coast. I guess that is one more thing I can look forward to when I go home for Christmas, along with reasonable cheese prices, donairs and good pizza.