Loch Ness and Edinburgh
---
Having slept reasonably well, we freshened up and headed back out on the road. We were outside of Falkirk, close to Stirling. Instead of getting breakfast there, we decided to drive for a while and stop somewhere for breakfast on the road. Continuing north we faithfully followed the other car with the GPS, which, I need to credit Nenad for, was not easy at times. About an hour after starting out, we stopped in Ballinluig, a small town on the A9. Here we ate breakfast, a typical Scottish breakfast, served by a South African waitress. The breakfast consisted of a fried egg, bacon, sausage, hash browns, a potato scone, baked beans, mushroom and blood pudding. It was all quite good, and after sating our hunger, we got back on the road.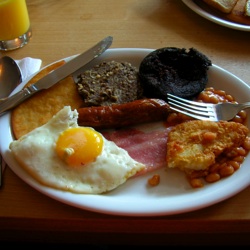 Originally the plan was to head up the west coast of Loch Ness, about half way up it's length and then return. However, the GPS decided it was better to drive up the A9 and hook around over Loch Ness at Inverness. In retrospect this was probably the fastest route—the GPS said it saves one hour of driving time, which is good when you are driving a lot. Along the way we stopped at one of the many "layby" points along the highway. We stretched our legs, took some photos of the beautiful mountains and breathed in the fresh highland air. It was a nice stop, as they all are, before getting back into the car to sit for who knew how long. Before arriving in Inverness we decided a stop at a tourist information point along the highway was in order. There we were able to find some of the important sites on the map. Not that we had time to visit any of them really, but we did find one set of castle ruins that we thought we should be able to visit. Most of us bought a couple trinkets from the gift shop here and used the bathroom before heading into Inverness. Unfortunately there was no motorway this time to take us around the city, so would would need to pass right through it.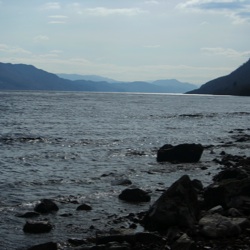 After getting a bit turned around in Inverness because of some road closures, we found our way down the A82 which is the Loch Ness trail. The drive is quite beautiful, and I would recommend it to anyone thinking about visiting Scotland. The decision to visit Loch Ness in hopes of seeing the monster was a tough one to make. It added a whole day of driving to our journey, meaning we wouldn't be able see as much of the cities, but on the other hand it is a world renowned location and we felt it would add some depth to the whole micro-adventure. It also depended on the amount and quality of sleep we were able to get on Friday night. But as it turned out we got the rest we needed and headed for our date with Nessie. After passing through Inverness, the road got a lot more narrow and winding as it began to hug the coast of the lake. At one point we found a stopping area along the side of the road which had access down the embankment to the shores of the lake. We all got out here and took our usual raft of photos. The sun in general is fairly low in the sky in Scotland this time of the year, and late in the afternoon the light was quite nice. We toss some stones into the water in hopes of getting Nessie's attention, but no luck. We tossed around the idea of perhaps dipping Daniel into the water as bait, but we couldn't get unanimous agreement. After we had our fill at this point, we returned to the cars and continued down the trail.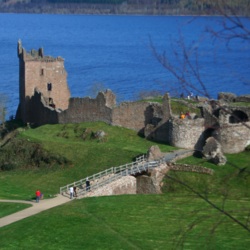 We then came to the small communities of Drumnadrochit and Lewiston which we passed through to get to the ruins of Urquhart Castle. This castle is along the edge of Loch Ness and while it is possible to get right into the ruins of the castle, our student minded budget didn't really give us that strong of a desire to actually pay to get in. We instead took photos from along the fence and stood a while to appreciate the history and beauty of the area. The best guess is that the castle was built sometime in the 13th century and was a central stronghold in medieval Scotland. Once finished at the castle site, we hopped back into the cars and were once more on our way. It took a few minutes, but eventually we realized that the GPS was taking us back the way we came. We stopped to discuss this, and upon learning it would save some time, decided it was the best idea. At this point we were heading towards Edinburgh, to try our luck with finding a place to sleep there.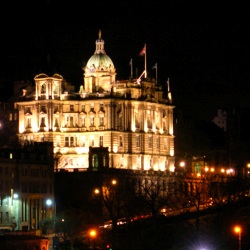 The drive back was quite uneventful. Much of the northern A9 highway is two way traffic, meaning that it can be slow going at times. We returned to Perth around 20:00 and stopped once more at a rest stop. We entered the McDonalds for a bathroom break, and decided to eat there since we wanted to save some time in Edinburgh for exploring and trying to find a place to sleep. We then set out for the final leg into Edinburgh, which took us through the center streets of the city. The city is definitely more impressive than Glasgow, and if I were to see only one, Edinburgh would be it without question. The GPS lead us right to the center—dead-ended at a pedestrian street. This wasn't helpful, so we programmed it for a parking lot and eventually found one. Emerging into the city, we headed in the direction we thought would take us to the center. It didn't but it did lead us to the Edinburgh Youth Hostel. We entered to find no rooms available. The clerk gave us a map with a list of some other places nearby (including phone numbers) and the advice that we could head to the center where there are lots of hostels. So with new map in hand we headed back into the center.
There are lots of nice things to take photos of in Edinburgh and it is a shame we didn't get to see it in the daylight. I guess that is an excuse to return some day. We did what we could photo-wise and walked to the main pedestrian street (where we had been in the car earlier). However, we didn't see any hostels. We wandered around, and at one point were in the main square from where ghost walks of the city commence. Standing and looking around the square, I was approached by an older woman who turned out to be a tour guide. She asked if I was part of a tour and I said no, she asked if I was with another guy and I said I was with several, indicating Nenad as he was closest. She grabbed the two of us by the arm and said she needed our help. Help as it turned out was to act as human props in her telling of a story about the public torture of two Englishmen for high treason in 1652 Edinburgh. The cat-of-nine-tails in the story was replaced in the telling with a regular looking whip. Once the mock whipping started, Nenad ran off and Daniel was volunteered to replace him. The story continued with Daniel's ear being nailed to the wall and my mouth being cut open and my tongue clamped. One of the women in the group was getting married I guess and she got a chance to wield the whip for a few lashes as well. In the end we were given a round of applause and were free to go.
That unfortunately didn't help us find a place to stay, so we started calling the list from the map to see if they had anything. There was one place with vacancies, but at £40 per person, it was too rich for some of gang. We instead headed to an authentic Scottish pub and had a small round, listening to some fiddle music. I even bought their CD. Afterwards we eventually found our way back to the car after more walking around. It was decided that we would leave Edinburgh and drive south until we found something. After a few false hits along the way, we ended up at a service stop in Abington, where we were able to find some cheap accommodation at a Days Inn. Exhausted, we retired to our rooms and after some showers, were asleep.