Athens Guard Change
---
Saturday Morning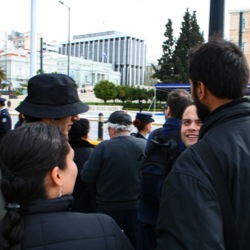 Morning came much too quickly, riding on a couple hours of sleep and sore feet. But not wanting to miss out on the day's festivities, I got ready to head out. I took a few minutes to gather all of my things into my backpack so that I could leave quickly later on if need be. At this point we still weren't certain whether or not we were going to head back on Saturday night or Sunday morning. That decision was also tied to whether or not we had to check out by noon, or pay for another night. Only two hours previous – in the middle of our night, two of our colleagues from Erasmus Mundus, Mateen and Adnan arrived in Athens and were looking for a place to stay. So Q went and picked them up from the train station and brought them to the hotel where they got a room. Apparently this happened while I was asleep… I vaguely remember Q getting up, but I guess it really doesn't matter. Mateen and Adnan joined us to head to the parade, but unfortunately Pablo wasn't feeling very well so he stayed in bed while we headed out.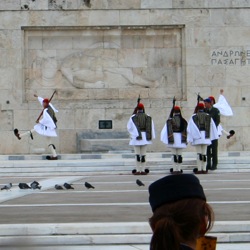 Taking the subway back to the parliament, there were fewer people there than I would have expected. Of course we were late getting away and so we didn't arrive until 9:30 – and thought we must have missed the changing of the guard. But apparently not, because they did it at 10:00. There were stands set up for very important people, I would assume, in front of the parliament and people were crowding around to get a look. Sissi, Daniel and I had decided to go grab some breakfast at McDonalds which we had spotted across the square. After some Sausage and Egg McMuffin and hash brown action, we were in more of a standing-around-waiting mood. While we were there, Q called and said that he and Max had gone to the train station and were buying tickets for that night, but you needed to show your student ID, so they couldn't get tickets for us. We walked back up to the parade route and learned that the parade didn't start until 11:00 (which in my mind is more of a normal parade starting time) and I cursed the night clerk under my breath for telling us 8:00. So we decided to take the subway back to the hotel to get Pablo (or at least his ID) and then go get tickets.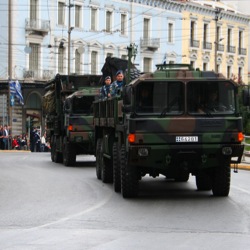 We must have been the only people leaving that subway station, as everyone else was arriving to watch the parade. We made it back to the hotel and learned that the street in front of the hotel was on the parade route. We went into the hotel and Pablo was feeling better so they got their stuff together and got ready to check out. I gathered all my stuff up and all that remained was Q's bag, and he was at the parade. I called him to tell him that we were leaving the hotel that he needed to come back and check out by noon. While we were getting ready to leave we saw the beginning of the parade on the TV in the room. You could see exactly where it was that we would have been standing if we had still been there. Having missed our big Greek television debut, we decided that Professor Mitkas was right and that watching the parade on TV was just as good. We checked out of the one room and then left towards the train station. As we approached Omonia square, the head of the parade was arriving and we managed to see some of the military vehicles that comprised the bulk of the procession.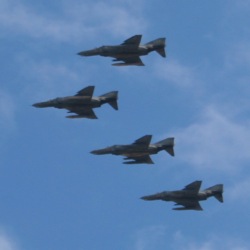 We went to the train station and paid for our return tickets for that night and found we were in car 8 again in sequential seats this time. I don't even think they asked for our student ID, just that we were all students. In any case we were out of there quickly and just as we were leaving saw several formations of jets flying overhead. Assumedly part of the military processions that were going on. Our train left at 23:55 so we had all afternoon and evening left to enjoy. Having asked a few questions about it at the hotel, we decided to try our luck down in Piraeus which is the dock area of Athens. We wanted to see if there were any short afternoon length island excursions we could go on for cheap.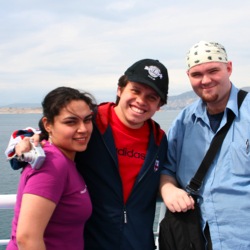 We took the subway to the end of line 1 (green) and decided to ask around for the best prices. We found one tour operator who told us about the various ferry options to the three closest islands: Aegina, Poros, and Hydra. I remembered the names from my grade 10 trip and knew that there were some nice ruins on Aegina. Fortunately that one was closer and a regular (non flying-dolphin) ferry could get us there in 1 hour. It left at 13:00 (which was in 15 minutes) and the last ferry back was at 19:30. With our student discounts, the whole round trip cost 9.10€ each. We walked toward gate E8 where the ticket saleswoman told us to go. We met up with an older couple looking for the same ferry, and got split up looking for it. We heard a shout and they were yelling, the boat was about to leave! We ran onto the ferry just in time as it was starting to raise the ramp – another minute and we would have missed it. The ferry ride was like any other I'd been on, except that this time it was in the Aegean Sea and not the Northumberland Strait. It was Daniel's first time on a ferry like this, and I'm not sure about Pablo and Sissi. So the four of us took photos and enjoyed the view as we headed to Aegina.